Description
TOYOTA / YARIS GR FROM 2020 ONWARDS / STAGE 2 RACING EDITION 1.6 4WD, 261PS/192KW, 1618 CCM (REQUIRES HARDWARE)
DTUK Performance – Plug and Play, Petrol and Diesel Tuning Boxes
The very latest in market-leading Multichannel Petrol, Hybrid and Diesel Chip Tuning Boxes including high-speed processors complete with dyno proven software written and developed in-house by DTUK®
Multi-Map Technology
Tuning for every sensor.
DTUK have developed a multi-map tuning technology which can optimise up to five different channels, all in real time.
Whether it be common rail pressure, boost pressure, turbo pressure, intake manifold pressure or air mass volume, DTUK's PowerControl is able to control them all. Even the latest generation and most technically demanding engines are effortlessly controlled, all within a multi-dimensional multi-map environment.
› Compatible with Diesel particulate filters
Clean Power.
Another advantage of the Multi-Map Technology is that it conforms with the vehicles legal predetermined emission values. Combusted fuel efficiency is 100% throughout the rev range by the PowerControl which means it can safely be used on vehicles with DPF's. Its compliance with the vehicles emission values can be confirmed in its TUV parts certification.
› Adaptive Sensor System
Intelligent performance increase on driver's command.
The Adaptive Sensor System scrutinizes all the relevant engine data and after detecting its respective load state, will provide more power when necessary. Should the driver demand more power, for example, when overtaking, the system will automatically switch on. If the additional power is not used, the system will gradually reduce the power, all power changes are seamless and dynamic.
Not only are the best performance yields based on engine load state but also on road speeds, that's what DTE's adaptive tuning technology offers, more power with less fuel usage.
› Auto-Adjust-Function
Adjusts automatically to driving behavior.
This innovation allows DTUK's tuning products to 'learn' the unique characteristics of your vehicle. During a short setup period, the chips memory function records the engines injection cycle data and optimises the reloaded maps accordingly. Standard vehicle tolerances are taken into account and an optimal tune is achieved – all without any complicated driver input.
› Engine Protect+
Added safety and protection for your car.
A whole new range of new safety standards are introduced with DTUKs new Engine Protect+ feature. This function has the important task of continually monitoring the ECU's signals to the engine and safeguarding them against any overloads. The protective functions of the ECU as well as air fuel ratios remain intact and within specification, ensuring complete peace of mind.
› Multi-Protocol-Technology
A milestone in engine tuning.
This newly developed multi-protocol tuning technology in the SNT PowerControl combines both analog and digital ECU technologies. Digital SENT signals are recorded and optimised by the SNT PowerControl while at the same time capturing important analog signals from the ECU. Our SNT PowerControl is a real milestone in the performance industry and a world first, only from DTUK.
Optional Bluetooth Smartphone control with "over the air" software updates
Fully Adjustable Digital Petrol, Hybrid and Diesel Tuning Box offering up to 40% gains in Power and Torque
Up to 20% improvement in Fuel Economy (depending on driving style)
Improved throttle response for a smoother driving experience
Suitable for both manual & automatic transmissions and for vehicles fitted with a diesel particulate filter, including the latest Euro 6
Improved low rev range Torque, which is ideal for towing
RPM detection on applications using our CRD3+,FSR+ and MP-T Boxes
German Manufactured, with over 3,000 genuine TuV Approved applications
Programmed specifically for your car, van, motorhome, truck, boat or tractor
Upto 5 Year* Module Warranty for complete peace of mind.(*subject to terms and conditions)
Transferable to your next vehicle (depending on injection type, please contact us for details)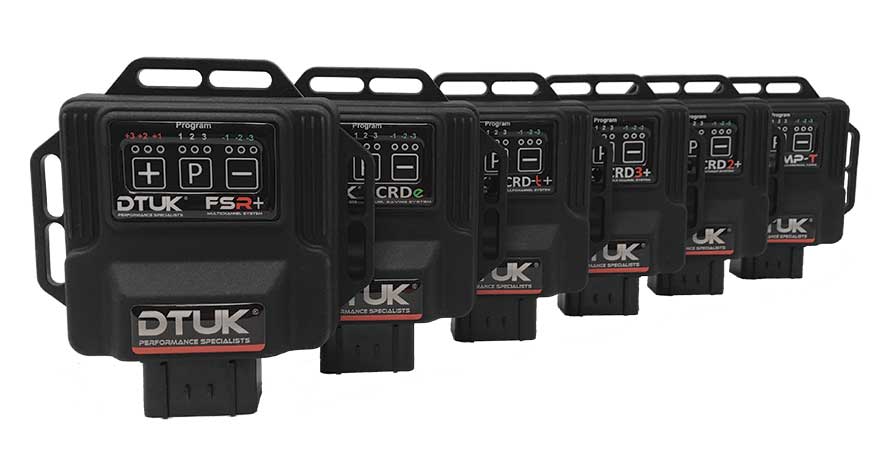 To avoid being confused by the number of systems on offer we recommend that you use the search function above to locate your vehicle and find the shortlist of systems available to you and then compare them only.
Below is our range of tuning and throttle response systems. Unlike many competitors we offer a wide range of systems. One generic system cannot work across all of the applications that we offer solutions for. With so many injection and engine management systems available we have to tailor our systems to specific groups of vehicles.
All of that said, our performance systems are modular by design. They consist of the module itself, the wiring loom or harness and the installed software. In many instances, you can transfer your DTUK system from one vehicle to another simply by requesting a change of software and a new wiring harness. Please contact us for further information and to check compatibility between applications. Systems have to be returned to DTUK for software installation and quality checking prior to being transferred to a second vehicle. Should your existing system not be transferrable to a new application we will offer you a trade discount on a new system of your choice.
All of the systems below are constructed using TÜV and CE approved components and production systems. With the exception of the PedalBox Throttle Response systems, they also benefit from 3-year module warranties. Bluetooth enabled systems are offered with a 5 year warranty.
Again, with the exception of the PedalBox Throttle Response systems, all of the systems on offer below are eligible for our 12/24/36 and 48-month instalment plans. Some are even eligible for 6-month, interest free instalment plans (subject to status) which will be offered at checkout. The PedalBox systems are eligible for monthly instalment plans if purchased alongside another system. That isn't us trying to upsell, it's simply the minimum spend threshold for our credit partner.
Take a good look around and don't hesitate to contact us should you have any questions.
To avoid being confused by the number of systems on offer we recommend that you use the search function above to locate your vehicle and find the shortlist of systems available to you and then compare them only.
Some of our boxes are now available with optional "Bluetooth App Control" – that come with the following benefits
NEW Features:
Connect your smartphone directly with your DTUK Tuning Module
Acceleration for real-time measurements
Display of the longitudinal & lateral acceleration
Live Display of relevant sensor data
Activate & Deactivate the Tuning module using the APP
Select your favourite program & fine tune setting
Adjust the app's onboard instruments & features
Set a specific warm up timer from 1-15 minutes to allow your engine to reach working temperature before the module is activated
Interchangeable between engine technologies Petrol / Diesel / Hybrid analogue applications & upgradeable to SENT applications.
"Over the air" software updates
Compatible with all devices running Android 7.0 (excluding Huawei) & above and iOS 10 & above.