Description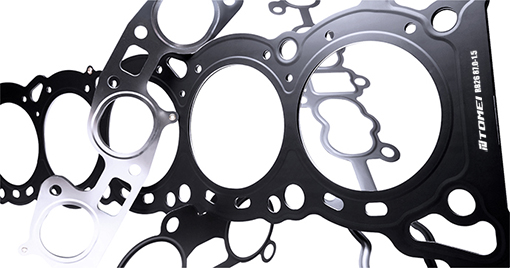 ■ULTRA DURABLE, HIGH PERFORMANCE HEAD GASKETS
■HIGHLY OPTIMIZED, ENGINE SPECIFIC CONSTRUCTION
■MADE USING PREMIUM GRADE MATERIALS AND COATINGS
■PRECISION WATER/OIL ROUTE SEALS
■MULTIPLE THICKNESSES FOR CR ADJUSTMENT
---
● COMPARISON WITH OEM (KA24DE)

OEM GASKET


Less resistant to high temperatures and
comparatively inferior sealing properties.
Will easily 'blow' with tuning or under load.

TOMEI GASKET


Highly resistant to heat and extremely durable.Superior sealing that can withstand high power applications.
---
| | |
| --- | --- |
| ● | Highly durable combustion chamber seals: Withstands high power/boost/temperature applications. |
---
| | |
| --- | --- |
| ● | Precision water & oil route seals: Ensures a steady circulation of engine fluids. |


SEALING TEST (2JZ-G(T)E, HEAD SIDE)

SEALING TEST (2JZ-G(T)E, BLOCK SIDE)

Thicker seals around the bore keeps pressurized gasses within the combustion chamber.
Thicker bore seals usually results in weaker seals around the oil and water routes. However,
TOMEI USA gaskets have been specially designed to distributed pressure evenly in order
to maintain a high quality seal across the entire surface.
---
| | |
| --- | --- |
| ● | Engine specific gasket construction ensures optimal performance & least stress on block/head. |

RAISED BEADS
Stopper type

OPPOSING BEADS
Double-stopper type

OPPOSING BEADS
Stopper type

MULTI-BEAD
Stopper & shim type
BEAD TYPES

SEAL TYPES

---
● MULTI-LAYER CONSTRUCTION FOR MULTIPLE THICKNESSES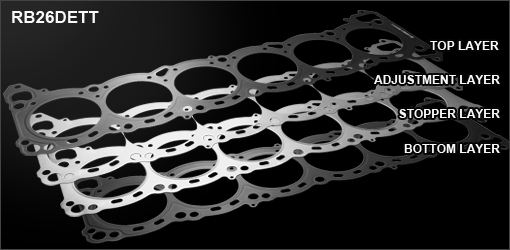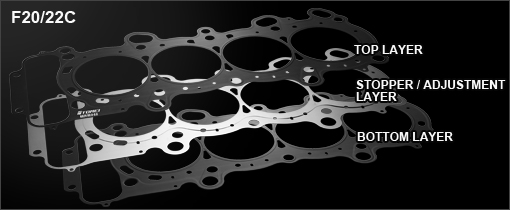 Adjustment layers of various thicknesses are combined to offer a diverse range of gaskets in a
multitude of thicknesses.
---
| | |
| --- | --- |
| ● | A diverse range of specifications for precise compression ratio adjustments. |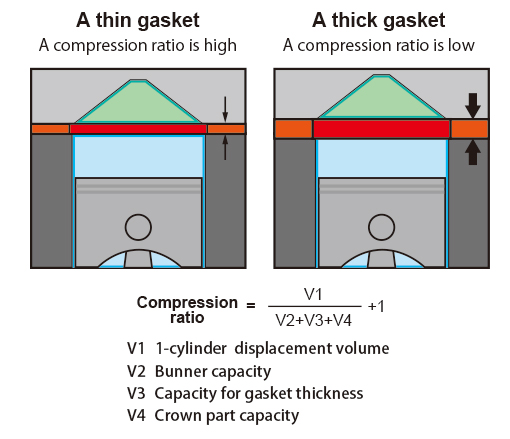 COMPRESSION RATIO CALCULATION TOOLS
---

STAINLESS STEEL


Stainless steel is used across all our high performance gaskets. Robust and resistant to high temperatures,stainless steel facilitates efficient transfer of heat from the combustion chamber to the cylinder block. In addition, it's flexible nature further strengthens the seal made by the spring-like beads which helps prevent issues such as blown gaskets and melted cylinder blocks.

UNIQUE RUBBER COATING


Both the top and bottom layers of the gaskets are coated in a specially developed unique rubber coating that reinforces the seal and contact with the head/block surfaces.