Description
The Tomei movable baffle plate is made to achieve stable oil lubrication at any situations such as curving, acceleration, and deceleration. And it will secure the improvement of engine performance from street use to the drag racing or circuit run.
FEATURES
High quality Tomei construction
Ensures engine oil pick up is always sucking in oil, not air
Lower plates designed to control the flow of oil from inertial forces
Fitment
Supra A80 MKIV – JZA80 and Soarer 2.5GT-T – JZZ30
This product has been designed to fit Toyota P/N:12102-46031 (OIL PAN NO.2) and P/N: 15104-46030 (STRAINER ASSY) only.
Make sure the oil pan and oil strainer you are installing this product with are the right application prior to the installation.
FEATURE / SPEC
■ Keeps the oil from sloshing away from the oil pickup during hard cornering.

It allows the one way movement of oil and can keeping it where the oil pickup is at all times by preventing oil deviation with the use of swing plates on hinges.
---
■ Competition proven, true performance.

Designed based on the knowledge and experience we acquired in Formula Drift series. It's well proven in the real competition to increase reliability of the whole engine by helping to properly lubricate the engine at all times.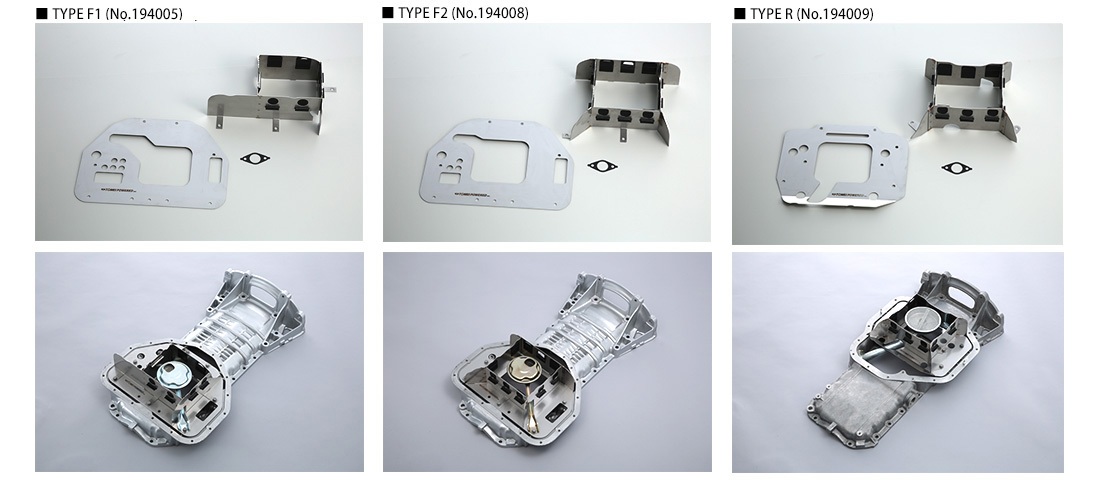 TYPE F1

TYPE F2

TYPE R

MATERIAL

SUS304
SUS304
SUS304

UPPER BAFFLE THICKNESS

1.2mm
1.2mm
1.2mm

LOWER BAFFLE THICKNESS

1.2mm
1.2mm
1.2mm

WEIGHT

UPPER : 475g




LOWER : 635g (Including rubber valve)

UPPER : 490g




LOWER : 600g (Including rubber valve)

UPPER : 410g




LOWER : 610g (Including rubber valve)